Ramadan is a sacred month for Muslims who practice fasting, meditation, and prayer. It is commemorated as the month when Muhammad received the first revelations of the Quran, Muslims' holy book. One of Islam's five core fundamentals is fasting. During Ramadan, Muslims refrain from eating or drinking from sunrise to sunset each day. They are also expected to refrain from having filthy thoughts and acting in the wrong manner.
Muslims break their fasts by eating meals with family and friends, and the completion of Ramadan is marked by the Eid al-Fitr festival, which lasts three days and is one of Islam's main holidays. This year, Ramadan 2022 begins on Saturday, April 2, and ends on Sunday, May 1.
Fruit Juice would be a great supplement of vitamins, minerals, and phytochemicals for Muslims during the Ramadan Festival. There is nothing healthier than consuming fresh fruit juice. Here are five reasons why you should consume fresh fruit juice during the fasting month of Ramadan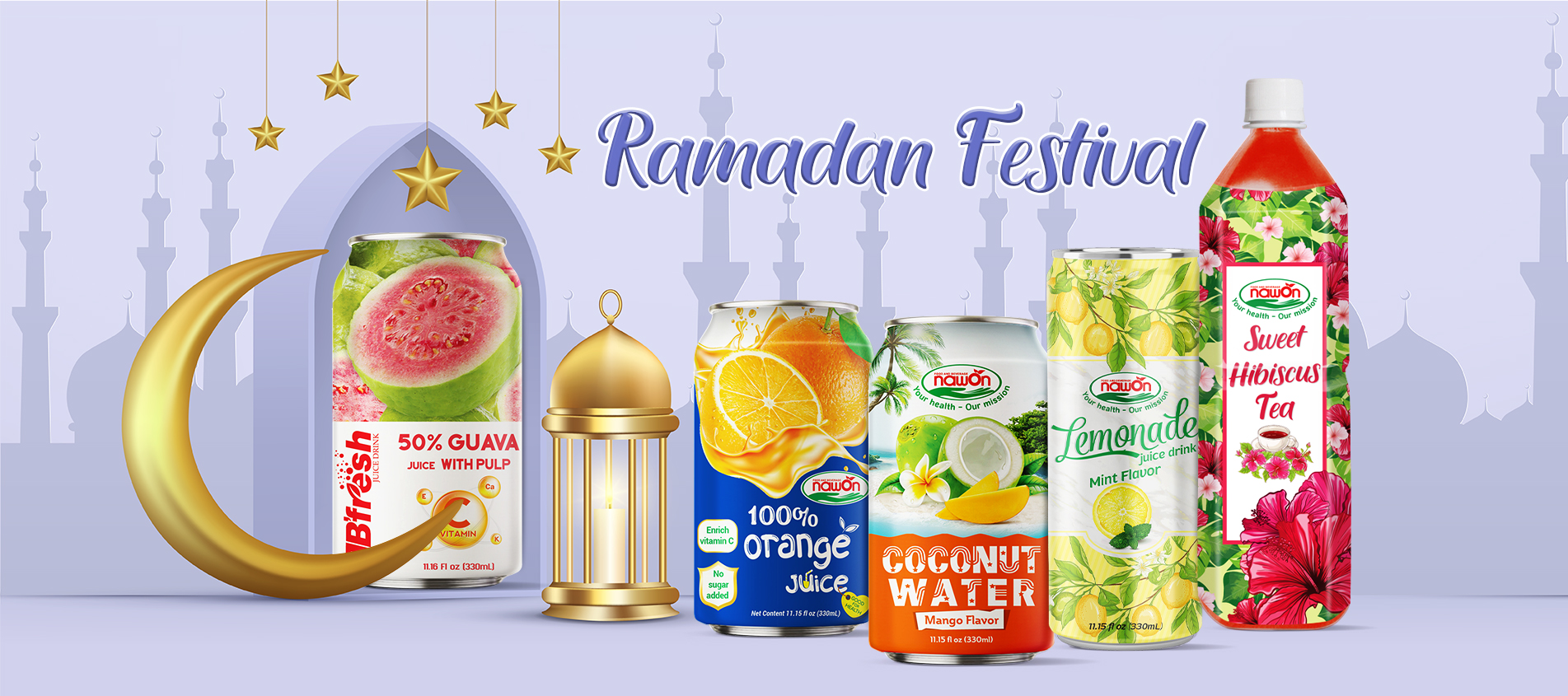 1/ Fruit Juice in Ramadam – Detoxifies your body:
During Ramadan, drinking a glass of fresh juice helps you detoxify. If you don't eat fruit every day, the simplest solution is to incorporate fresh juice into your meal.  A glass of freshly squeezed juice contains all of the enzymes, minerals, and vitamins that your body can easily absorb. Fresh fruit juice should be consumed not only during Ramadan but also on daily basis to avoid illness.
2/ Fruit Juice in Ramadam – Enriched with vitamins:
Fresh Fruit Juice has the benefit of delivering water to your body and keeping it hydrated. Each juice has a distinct health effect and adds value to your body. If you're thirsty, a glass of celery juice will help you stay hydrated. If you're tired after a long day at work, a glass of ginger or lemon juice will help replenish your energy levels. The nicest thing about fruit juices is that they are easy to digest and deliver nutritious value right away.
3/ Fruit Juice in Ramadam – Prevent food cravings:
When you have to fast during Ramadan, some people normally turn into overeating, which is not good for you. The nicest thing about fresh fruit juice is that it satisfies your hunger for the time being while keeping you full until your next meal. Juices are beneficial, but as the saying goes, everything in excess is dangerous! Fruit juices should be avoided since they contain sugar, which can raise blood sugar levels if drunk in excess.
4/ Fruit Juice in Ramadam – Protect Against Diseases:
Drinking juice made from a variety of fruits and vegetables will help you get more nutrients into your body by introducing vitamins and minerals. These are essential in the prevention of ailments such as heart disease, diabetes, digestive problems, immune system problems, high blood pressure, and more.
Green juice, in particular, can aid in the removal of toxins from the body when combined with a good diet and regular exercise! Free radicals put many people at a higher risk of disease, and phytochemicals in the juice can dissolve them in the body.
Although green juice will lower your healthcare costs, it will help you avoid numerous ailments that are preventable. Juicing is an excellent choice if you don't normally consume fruits and veggies.
5/ Fruit Juice in Ramadam – Antioxidants:
Antioxidants are found in plant-based foods and serve to prevent or reverse oxidant-induced cell damage. Freshly squeezed juices are a terrific method to receive these nutrients, and the juices of fruits and vegetables with the highest antioxidant contents provide the best protection against harm caused by unstable chemicals that occur naturally in your body.
The greatest antioxidant juices are made entirely of natural fruits or vegetables, with darker-colored fruits and vegetables containing more antioxidants.
As the leading beverage manufacturer, Nawon squeezes the fresh fruit juice. Our fruit juice is extracted from 100% fruit grown on our own farms. We do provide free samples to our customers and supply thousands of cartons of our tasty and nutritious freshly squeezed juice globally.