In a world where health-conscious consumers seek an oasis of fizzy refreshment without the guilt of excessive sugars and calories, the market for sparkling water has bubbled to life. It's a domain where effervescence meets flavor, and choice reigns supreme. Join us on a sparkling journey as we explore the top 15 best sparkling water brands that are quenching the thirst of aficionados and quirk-seekers alike. From the classics to the innovators, these sparkling waters redefine hydration, offering crisp, clean, and often delightfully flavored alternatives to sugary beverage. Let see what are the 15 best sparkling water brands.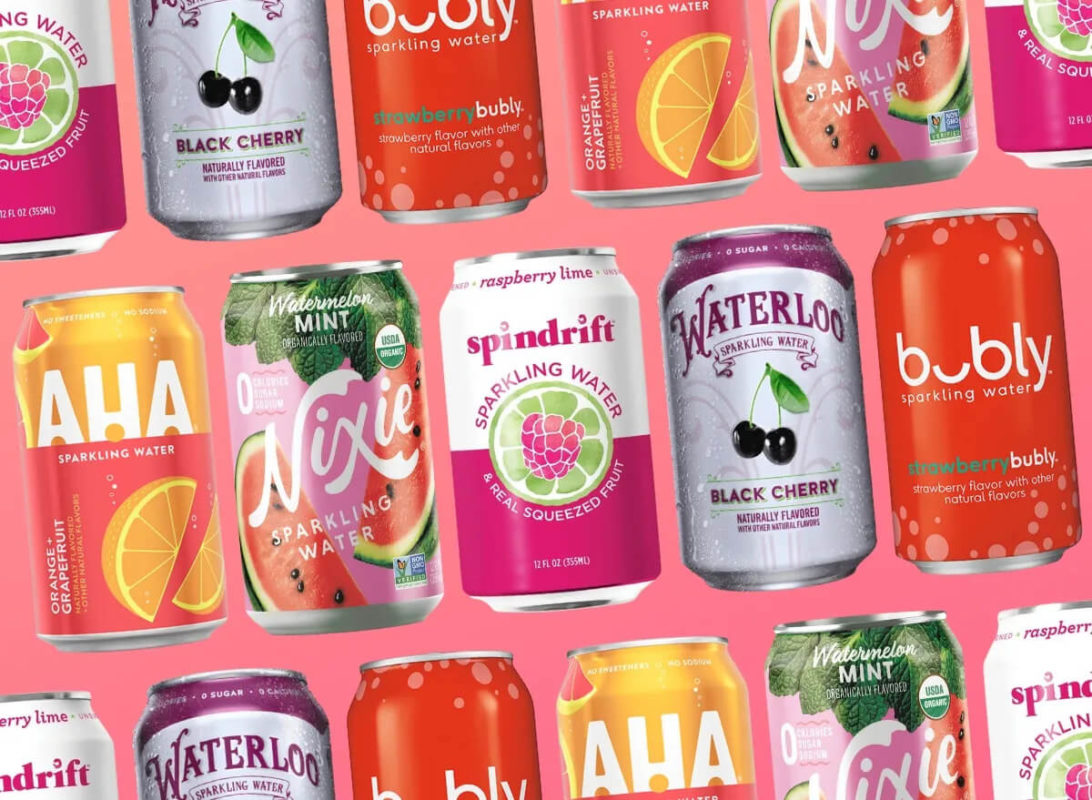 What are the benefits of sparkling water
Hydration: Like plain water, sparkling water helps keep you hydrated. The carbonation can make it more enjoyable for some people, encouraging increased water intake.

Low-Calorie Option: Unflavored sparkling water is typically calorie-free, making it an excellent choice for those who want to manage their calorie intake. It can be a satisfying alternative to sugary beverages without the added calories.

Aid in Digestion: Some people find that the carbonation in sparkling water can help alleviate symptoms of indigestion or an upset stomach. The carbonation may promote burping, which can relieve discomfort in some cases.

Variety of Flavors: Flavored sparkling water is widely available and comes in a wide range of natural and artificial flavors, offering a wide range of taste options. This can be a healthier alternative to sugary soft drinks and a way to stay hydrated while enjoying different flavors.

Alternative to Sugary Drinks: Sparkling water is a great substitute for sugary sodas, energy drinks, and other high-sugar beverages. It provides a similar fizzy sensation without the excessive sugar and empty calories.

Mixing in Cocktails: Sparkling water is a versatile mixer for alcoholic and non-alcoholic cocktails. It can add a delightful effervescence to your drinks without the added calories or sugar often found in tonic water or soda.

Digestive Comfort: In some cases, the carbonation in sparkling water may provide relief from bloating or gas. While it doesn't work for everyone, some individuals find it helpful for digestive comfort.
Besides the health benefits of carbonated water, this beverage also contains some side effects.
You can see detail in our article: Is Sparkling Water Good For You?
What is best sparkling water
What constitutes the "best" sparkling water can vary from person to person, as it is highly subjective and depends on individual taste preferences. What one person considers the best sparkling water may not be the same for another person. However, there are basic factors for you to evaluate which brand of carbonated drinks is the best:
Taste
 The taste of carbonated water is the most important factor. Some people prefer a clean and neutral taste with just a hint of carbonation, while others prefer naturally or artificially flavored varieties.
Degree of carbonation
The degree of carbonation or effervescence can also affect the perceived quality. Some people like carbonated water with more carbonation, while others prefer lighter carbonated water.
Varied Flavors
A good sparkling water brand offers a variety of flavors to satisfy different tastes and preferences.
Packaging
Packaging, such as choosing between glass bottles, plastic bottles or cans, can also influence perceptions of quality.
Mineral content
Some sparkling waters are naturally carbonated and may have a unique mineral composition depending on the water source. Mineral content can influence flavor and perceived quality.
Pfas level
It's important to be aware of the potential for PFAS contamination in drinking water, including the sources used by beverage companies, as it can affect water quality and safety. Assessing PFAS levels in your sparkling water brand of choice when evaluating the quality of the product, particularly if you are concerned about these contaminants and their potential health impacts.
See more: Do you know PFAS in sparkling water is harmful to health?
To find the type of sparkling water that best suits your preferences, you should try different brands and flavors to determine which you like best. Remember that preferences can be highly personal, so what's best for one person may not be the same for another. 
Experimenting with different options and paying attention to your personal preferences is the best way to find a sparkling water you like. Refer to the 15 most popular carbonated water brands below if you need suggestions.
15 best sparkling water brand
This list is based on volume search on Google and quantity consumed, only used for referring.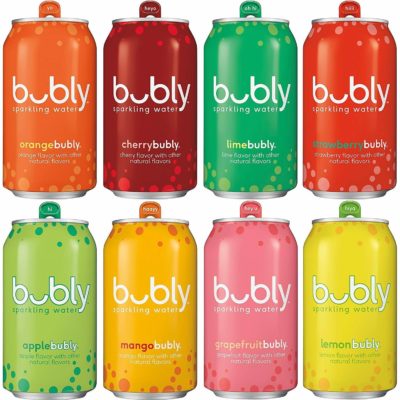 Bubly Sparkling Water, or simply Bubly, is a line of flavored sparkling water distributed by PepsiCo. Distribution of the product first began in February 2018 with 8 flavors, now 21 flavors introduced. (Bubly Sparkling Water – Wikipedia)
Bubly sparkling water ingredients don't have sugar, added sweeteners, or coloring so it can be considered as a healthy carbonated drink. Some best bubly sparkling water flavors you should try are grapefruit, cherry, and lime. PepsiCo also has bubly sparkling water caffeine for those who want to stay alert and refreshed when enjoying it.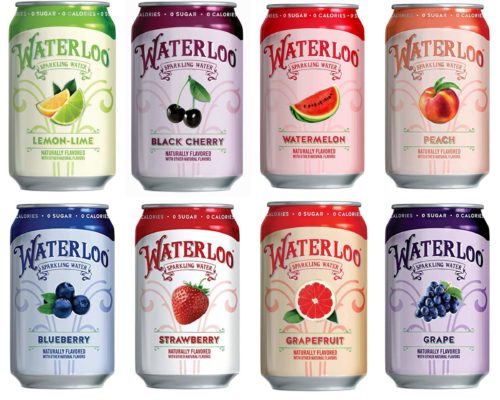 Waterloo – which launched in September 2017 with backing from CAVU Partners, is now owned by Flexis Capital, Eurazeo Brands and Moore Strategic Ventures. Waterloo sparkling water is widely sold in Costco chains, Walmart, Whole Food  and other retail stores. Waterloo tends to have a moderate level of carbonation, which some people find just right. It's not overly fizzy, making it enjoyable to drink on its own or as a mixer. Waterloo sparkling water ingredients do not contain synthetic, it is made with purified water and natural flavors only. Some must-try flavors of Waterloo are blackberry and watermelon.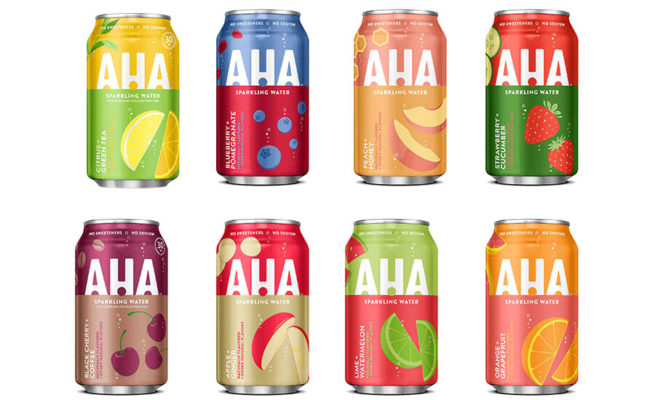 AHA sparkling water is produced by Coca‑Cola North America. The new sparkling water brand's unexpected yet approachable flavor combinations, vibrant packaging and fresh marketing meet growing consumer demand and cut down on the crowded category going forward. continues to grow at a double-digit rate.The calorie-free, sodium-free offerings are available in multi-packs of 12-fl.-oz. cans and in 16-fl.-oz. individual creative packaging cans.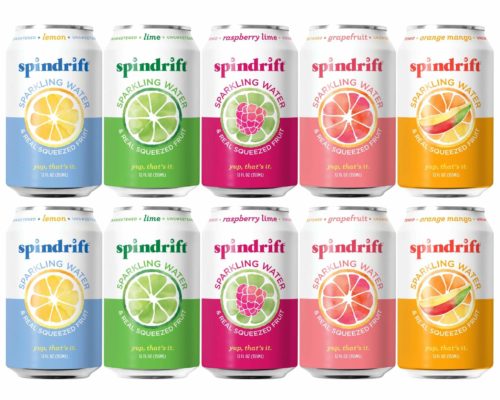 At the heart of Spindrift lies a straightforward philosophy: it's the pioneer of genuine fruit-infused sparkling water in the United States. Each can is a testament to this unwavering commitment to real, freshly squeezed fruit. The journey to perfection begins on family farms spanning the nation, where the finest fruits are handpicked to deliver impeccable taste and quality.
Founded by the visionary Bill Creelman in 2010, Spindrift was born from a desire to craft something truly exceptional. His dedication has borne fruit, quite literally, as the brand now graces the menus of esteemed restaurants, the aisles of your local grocery stores, and the shelves of prominent national retailers. Spindrift has become a celebrated embodiment of the authentic fruit-infused sparkling water experience.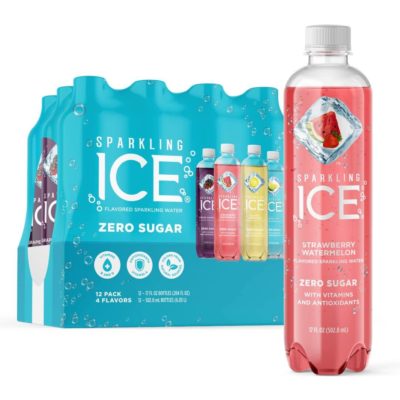 Sparkling ice water is a part of Talking Rain Beverage Company. The brand is renowned with 17 fizzy, fruity flavors with real fruit flavor. Ice sparkling water ingredients show that they have colors from natural sources, some products plus vitamins and antioxidants—and 6 flavors with a boost of caffeine. Like many sparkling water brands, Sparkling Ice is often marketed as a healthier alternative to sugary sodas. It typically contains zero calories and no sugar, making it attractive to those looking to reduce their sugar intake.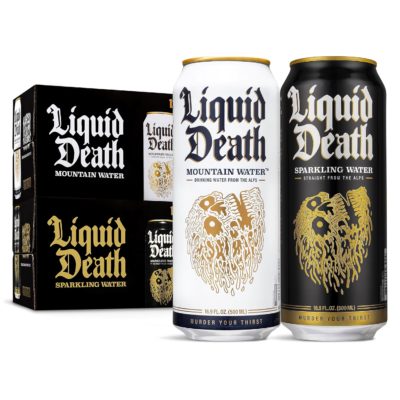 Liquid Death is a brand of sparkling water that has garnered attention for its unconventional and edgy marketing approach. Liquid Death has made a name for itself by using bold and irreverent branding. Its cans resemble tallboy beer cans, and the brand promotes itself as a "murderer of thirst." This unconventional marketing approach has gained significant attention on social media. Liquid Death Sparkling Water typically does not contain artificial sweeteners, colors, or additives. They have 4 Liquid death sparkling water flavors: Severed Lime, Mango Chainsaw, Berry It Alive, & Convicted Melon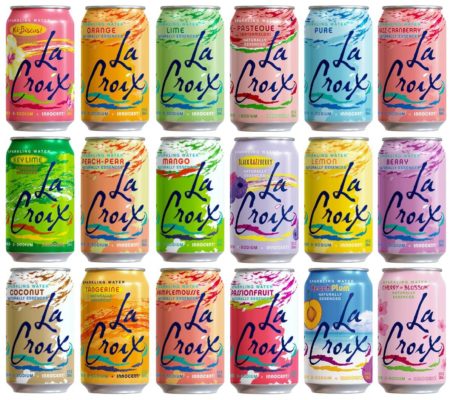 LaCroix Sparkling Water is a popular brand of carbonated water known for its wide range of flavors and its appeal to consumers seeking a calorie-free, sugar-free, and artificial sweetener-free alternative to sugary sodas. LaCroix Sparkling Water comes in colorful and easily recognizable cans, making it easy to identify on store shelves. The packaging has also contributed to its popularity.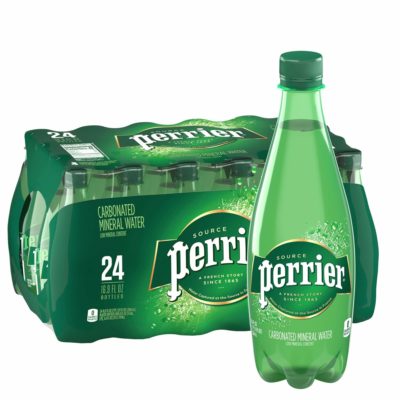 Perrier is a well-known brand of sparkling water that hails from France. It is often associated with its iconic green glass bottle and distinctive, natural carbonation. In addition to its classic unflavored sparkling water, Perrier offers a range of flavored sparkling water options. These flavors include Lime, Lemon, Pink Grapefruit, and more. The flavors are typically subtle and provide a hint of fruit essence. Perrier has a global presence and is widely available in many countries. It's a popular choice both on its own and as a mixer in various cocktails.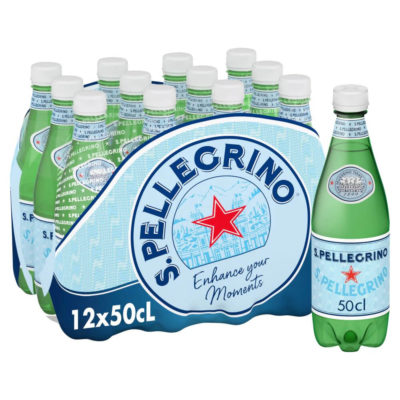 San Pellegrino, also called Italian sparkling water, is the best sparkling mineral water that originates from the town of San Pellegrino Terme in the Lombardy region of Italy. It is renowned for its naturally occurring carbonation and mineral-rich content.The water is bottled directly at the source, maintaining its natural carbonation and mineral composition. The distinctive green glass bottle is widely recognized and associated with the brand. San Pellegrino has a global presence and is widely available in many countries. It is often considered a premium brand of sparkling water due to its long history, mineral-rich nature, and Italian origin.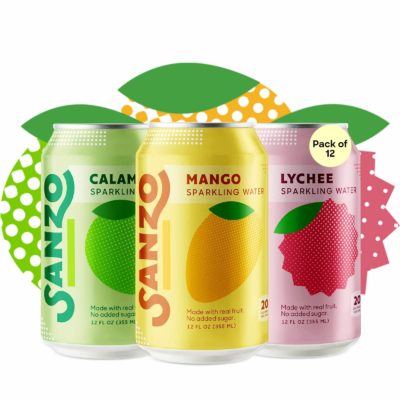 Sanzo distinguishes itself through its focus on Asian-inspired flavors. The brand incorporates real fruit juices from fruits commonly found in Asian cuisine. Some of its flavors include Lychee, Mango, Calamansi, and Alphonso Mango.Sanzo takes pride in using natural ingredients, real fruit juice, and carbonated water to create its flavors. You won't typically find artificial sweeteners or preservatives in their products. Even though Sanzo Sparkling Water is a smaller and newer brand than some of the more established sparkling water brands, we can't deny the great taste of this sparkling water.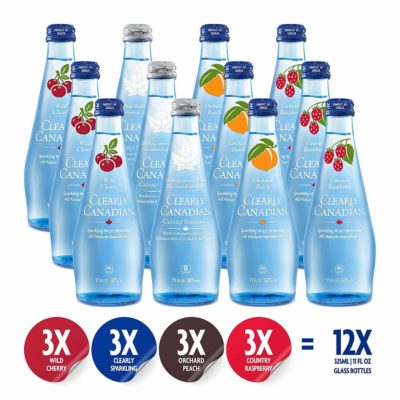 Clearly Canadian is a brand of premium sparkling waters produced by The Clearly Food & Beverage Company Ltd., of Canada. After a period of discontinuation, it was reintroduced to the market. Clearly Canadian offers a range of fruit-flavored sparkling water options, with flavors like Wild Cherry, Mountain Blackberry, Orchard Peach, and Country Raspberry. The flavors are known for their natural and authentic taste. Clearly Canadian's return to the market has generated enthusiasm among consumers who fondly remember the brand from its heyday. Its fruit-flavored sparkling waters provide a refreshing and nostalgic alternative to traditional sodas and artificially flavored beverages.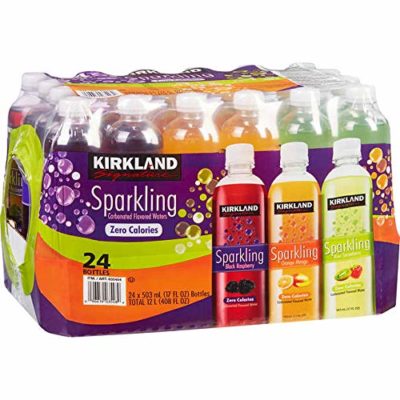 Kirkland Signature Sparkling Water is a private-label brand available exclusively at Costco, a membership-based warehouse club. Similar to other sparkling water brands, Kirkland Signature Sparkling Water typically contains zero calories, sugar, and artificial sweeteners. It is marketed as a healthier and calorie-free alternative to sugary beverages. Kirkland Signature offers a variety of sparkling water flavors, including Lime, Lemon, and Grapefruit. These flavors are often available in packs of 24 or 35 cans.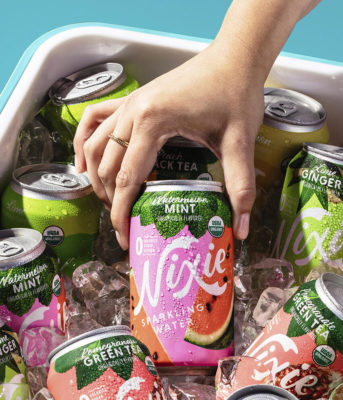 Nicole Bernard Dawes, the mind behind Nixie, brings you crisp and refreshing sparkling waters filled with vibrant flavors and clean, natural ingredients. Nicole, a passionate natural products entrepreneur, has dedicated her career to offering delicious, organic choices. Nixie waters are your guilt-free companion, boasting 0 calories, 0 sugar, and 0 sodium, all crafted with organic flavors and filtered carbonated water. Nixie prides itself on using high-quality, all-natural ingredients. Their sparkling water is typically made with just carbonated water and natural flavors, without any artificial sweeteners or preservatives.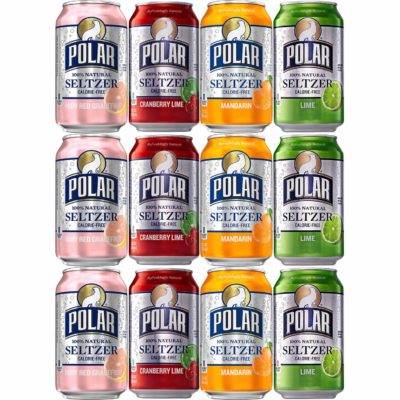 Polar is one of the oldest and most established brands of sparkling water in the United States. It was founded in 1882 in Worcester, Massachusetts, and has a long tradition of producing high-quality carbonated water. Polar offers a wide range of flavors, including both classic and unique options. Some of their well-loved flavors include Lemon, Lime, Raspberry Lime, and Mandarin Orange. They also introduce limited-edition and seasonal flavors. Polar has made efforts to enhance its environmental sustainability, including using BPA-free cans and launching a recycling program called "Recap the Sparkle."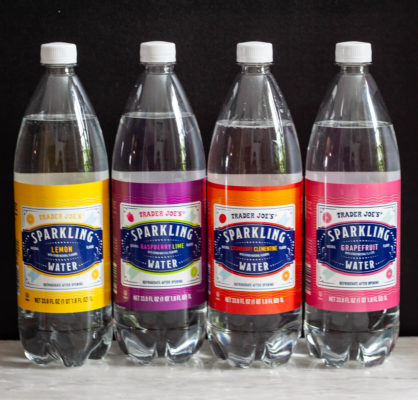 Trader Joe's is known for its private-label products and commitment to offering a variety of food and beverage options at affordable prices. Trader Joe's Sparkling Water is often appreciated by customers for its cost-effectiveness, range of flavors, and its availability in many of their stores. Like many sparkling water brands, Trader Joe's Sparkling Water typically contains zero calories and no sugar, making it a suitable choice for individuals looking to reduce their sugar and calorie intake. 
The last sentence
As a beverage supplier and manufacturer, Nawon hopes this list of the best sparkling water brands offers a range of exciting and healthy options for every taste. Each brand offers unique character and flair, offering fresh alternatives to traditional sugary drinks. So whether you're looking to enjoy the fruity flavors, crispness of natural mineral water, or a more refined sipping experience, these sparkling waters have got you covered.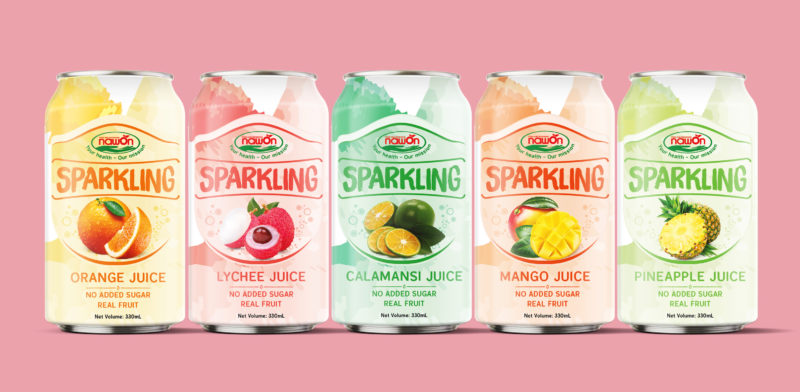 A healthy type of sparkling water option with a clearer fruit flavor you can consider is sparkling juice. So, if you are a food and beverage distributor, you may want to visit our SPARKLING JUICE category of Nawon. We are always ready to support 24/7 if you need any information. Thank you!