OEM stands for "original equipment manufacturer," and it refers to a company that supplies products or personnel to help a product reach the market. OEMs frequently create anything that is utilized as a component in a product, and they are usually connected with OEM services.
Original design manufacturing, or ODM, is sometimes known as "private labeling." An importer chooses an existing product design from a factory catalog, makes a few minor adjustments, and sells it under their own brand name. Packaging or product bundles, colors, and branding, as well as some minor alterations to components or functionality, are all examples of changes.
2. Pros/cons of OEM/ODM
OEM

ODM

Pros
As the buyer, you own the intellectual property of the product

You can customize the product

It may be more difficult to copy your product

Less risk in manufacturing because a working prototype is available

Usually faster to market than OEM

Your company isn't responsible for paying for new tools or equipment required to manufacture.

Save time and money on R&D because it has already been done for you

The risks of the product being copied can be greatly reduced by only dealing with proven, reliable manufacturers

Cons
Product development can add significantly to the time it will take to get the product to market

You will need to pay for any tools or moulds needed by the OEM Manufacturer

The intellectual property of the product is owned by the supplier or another company

You are responsible for any problems during sampling and product control

Late in the process, you may realize it would have been faster to design the product rather than try to reverse engineer it.
Besides Nawon brand, we also support customers with OEM/ODM service. Customers can develop their own recipe/label/brand with confidential information. Some steps to make OEM/ODM order at Nawon:
Step 1: Contact Tony at tony@nawon.com or our website nawon.com.vn, our sales team will bing you as soon as possible.
Step 2: Our sales team will collect information from you (if you have any ideas, recipes, requirements,…).
Step 3: Give you a general quote, send samples to you for checking the taste, design the label (if any).
Step 4:  After confirming the samples, resend the final price and other terms.
Step 5: Start the order.
We have experience manufacturing for many OEM/ODM customers around the world. Therefore, do not hesitate to contact us right now if you have any questions.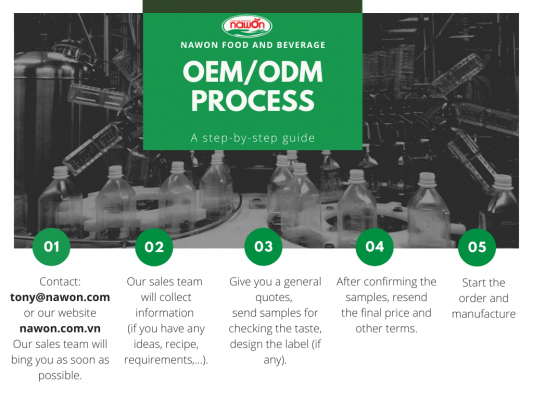 Located in a tropical climate area, Vietnam is known for its unique fruits such as coconut, aloe vera, mango, pineapple, passion fruit, lychee, longan, guava, rambutan, mangosteen, tamarind, etc. They not only have a distinctive taste but also offer man amazing health benefits. That is why these fruits are very popular in other countries around the world. In addition to exporting fresh fruit, beverage businesses in Vietnam also take advantage of abundant raw materials to make amazing drinks.
Nawon is a leader in the production of fresh tropical fruit products. Established in 2018, Nawon's products have been present in more than 90 countries and regions so far. In particular, Nawon's products have met the strictest standards of developed countries such as the US, Canada, Switzerland, Russia, UK, Korea, Singapore, etc.
To meet the market's increasing requirements for product quality, Nawon has applied the most modern production technologies. In addition to focusing on product quality, attentive sales staff will provide customers with the best services. The common goal is to make Nawon's products more and more known in other countries around the globe.
With that premise, combined with the continuous efforts of all company employees, Nawon will become a global brand in the long-term vision of the company's leaders.