DUBAI GULFOOD 2023 is the LARGEST ANNUAL F&B SOURCING EVENT IN THE WORLD. In 2023, NAWON attends this event as the leading beverage manufacturer from Vietnam. DUBAI GULFOOD 2023 is one of the international exhibitions that NAWON is going to exhibit this year. We are all looking forward to meeting our valued customers and building a long-term relationship with them via this exhibition.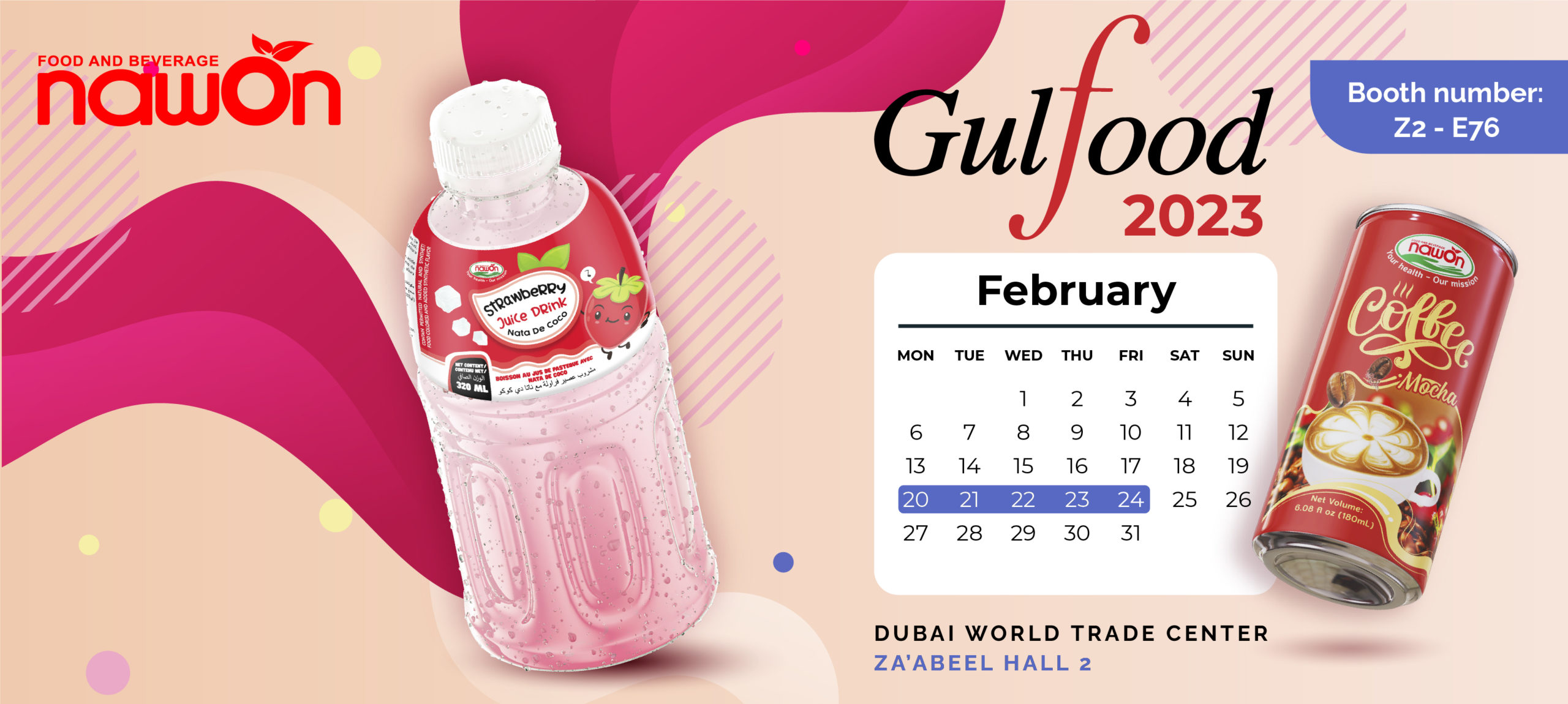 The exhibition is taken place from 20 to 24 February 2023 at Dubai World Trade Center. Our booth number is Z2 – E76, located in ZA'ABEEL HALL 2 (Beverage Sector). We hereby sincerely invite you to visit our booth at DUBAI GULFOOD 2023. Your visit is our pleasure. We expect to establish a long-term business relationship with your company in the future!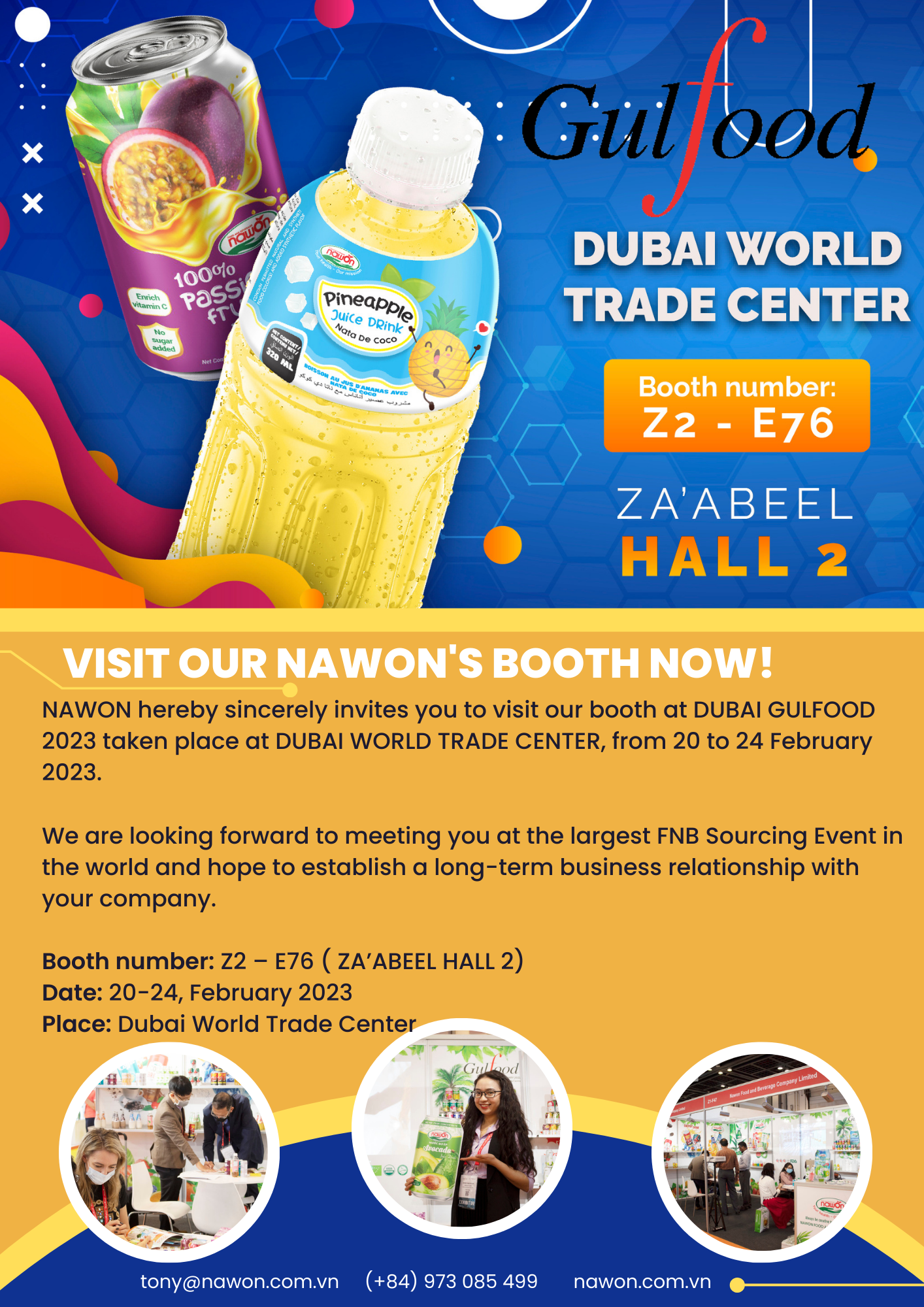 Bringing to this largest exhibition, there are NAWON's experts in the beverage field who have significant experience in this area. Our experts are ready to share with our customers the latest trends, relevant knowledge, and even, some know-how tips to run a business in this industry. With a huge experience running a business in the beverage industry, our experts may provide you the useful advice.
Besides, NAWON also brings to the exhibition the best beverage for our customers to try and take away. Our products are NEVER FROM CONCENTRATE and extracted from the fresh fruit grown on our own farm. Within recent years, we observed an increase in demand for plant-based drinks, smoothies, and super drinks, all of which are healthy-oriented. Therefore, we will bring our latest products, which are met the demand of the market, to present to the world.
DUBAI GULFOOD 2023 is a great chance for NAWON to meet our international customers and explore new global trends in the beverage area. This event would be a wonderful opportunity for us to understand our customers deeply and adapt to the new trends, therefore, serve our customers better and better in the near future.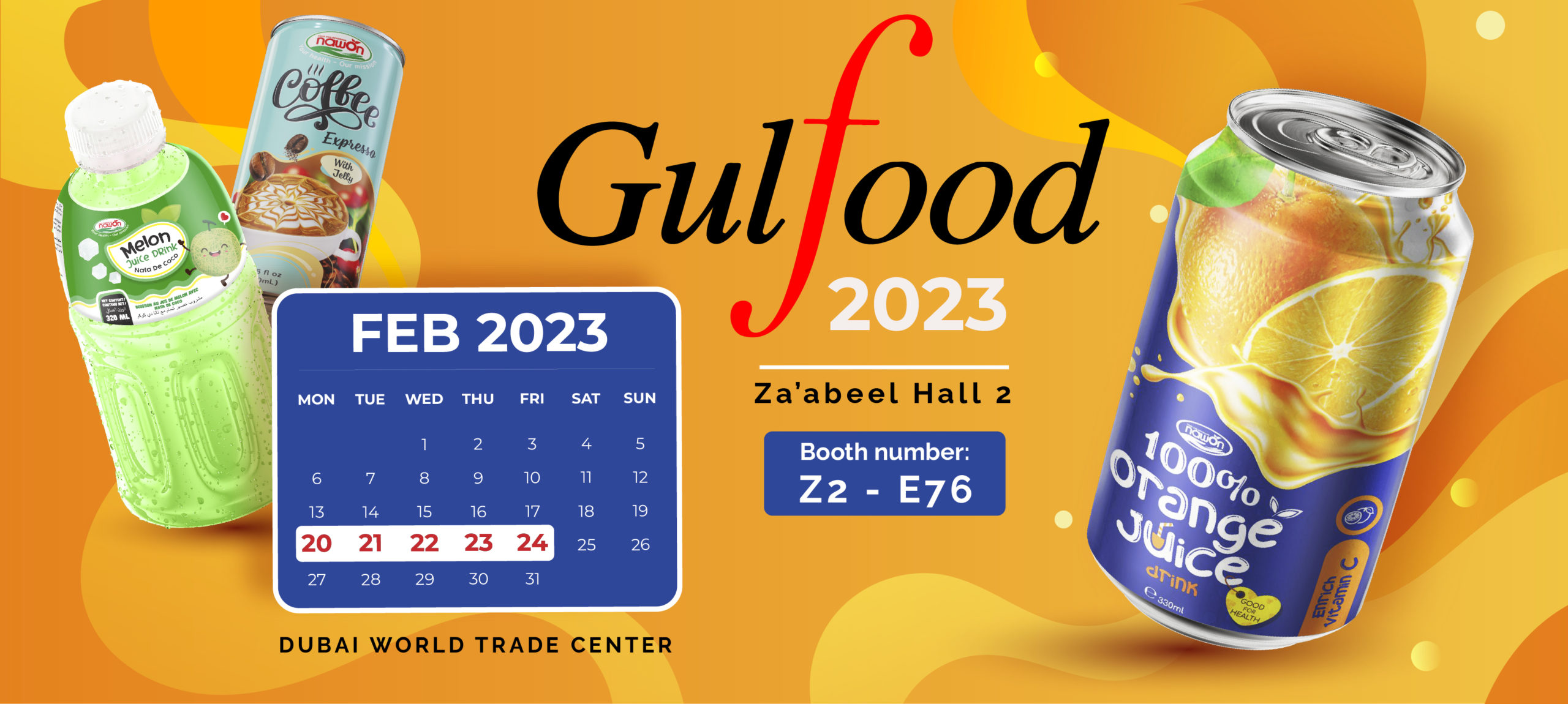 NAWON BOOTH:
Booth number: Z2-E76 ( ZA'ABEEL HALL 2)
Date: 20-24 February 2023
Place: Dubai World Trade Center
ABOUT NAWON:
Nawon Food and Beverage Company Limited, the Leading Food and Beverage Manufacturer and supplier is based in Vietnam, was established in the early 2018 with the passion to introduce Vietnamese tropical healthy drink all over the world.
Our Vission:

We always put quality and reputation at the top of the business, enhancing the value for our customers, associates and communities to become the Leading Beverage Company.

Our Mission:

Our Mission is to protect and improve customers' everyday health and lives. We ensure to provide the freshest, purest, and most natural, healthy drinks to our customers.
"Your Health – Our Mission" means "Your Health is Our Mission". This slogan is consistent with our mission. All of Nawon's products are healthy and nutritious drinks, helping customers improve everyday health and life through our health improvement products.
Besides, our commitment continually improves the taste and nutritious quality of all our products, helping millions of people enjoy delicious beverages and achieve a healthy lifestyle.
We are Beverage Manufacturer. We provide drinks under the Nawon brand or OEM/ODM service for private labels. Thanks to the variety of available packagings/ bottle shapes and the most modern technologies and equipment in the food and beverage industry, Nawon guarantees mass production and low price. At Nawon, we offer a Free Sample and Free Design Label. Besides, Nawon has significant experience in exporting beverages all around the world at wholesale prices for many years.
As a leading beverage supplier, Nawon has achieved many accredited certificates such as USDA Organic, Euro Organic, ISO 22000, HACCP, GMP, HALAL, FDA, etc.
NAWON must fulfill high quality and safety standards to meet public expectations, maintain legal compliance, satisfy customers.