Distributor, are you looking for a delightful and refreshing beverage option that's perfect for celebrations, gatherings, or everyday enjoyment? Look no further! Our Sparkling Cranberry Juice in convenient 330ml cans is the ideal choice for your customer and your business.  Whether you're an event planner looking for a refreshing drink option, a retailer searching for an appealing product for your shelves, our delicious and non-alcoholic sparkling cranberry juice 330ml cans are the perfect choice. Contact NAWON today to learn more about our wholesale options and how you can elevate your beverage offerings with our Sparkling Cranberry Juice. Cheers to sparkling moments and great taste!
Sparkling Cranberry Juice Wholesale 330ml Can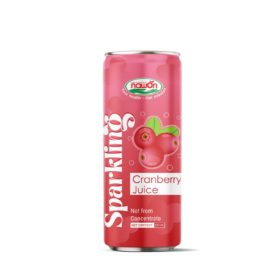 Premium quality: Our Sparkling Cranberry Juice is made from the finest cranberries, carefully selected to ensure the highest quality and taste. It's a non-alcoholic, Halal-certified beverage, making it suitable for a diverse range of consumers.
330ml Cans: The 330ml can size is convenient and portable, making it a perfect choice for events, parties, weddings, or any occasion where you want to offer a sparkling, non-alcoholic beverage. The compact size also reduces waste and allows for easy storage.
Trending sparkling water: This Cranberry juice is sparkling, giving it a fizzy, effervescent quality that adds an extra layer of enjoyment to every sip. Its naturally sweet and fruity flavor makes it a hit with people of all ages.
Read more about sparkling water: HERE
Versatile usage: Our Sparkling Cranberry Juice is not only a delightful beverage on its own, but it also works well as a mixer for mocktails or cocktails. It's a versatile addition to your beverage inventory.
Wholesale good price: We offer competitive pricing for bulk orders, making it easy for businesses, event planners, and retailers to stock up on this popular and in-demand beverage.
Customization: We can work with you to design white labels/private label/OEM/ODM. Personalize the cans for corporate branding.
Reliable Supplier: We maintain consistent product quality and supply, ensuring that you always have access to our Sparkling Cranberry Juice whenever you need it.
About Nawon Factory
Nawon's factory is about 2 hectares wide, located in Di An city, Binh Duong provine. Binh Duong is known for its busy industrial production activities with 27 industrial parks across the province, only about 30 minutes drive from Ho Chi Minh City Port. Therefore, Nawon has the strength in transporting goods to seaports at low cost, thereby increasing the competitiveness of Nawon products.
There are total 10 production lines: 4 aluminum can lines, 3 PET bottle lines, 2 Glass bottle lines and 1 PP bottle line. All these 10 production lines are equipped with modern technologies to ensure the best quality products. Beside Sparkling water, we offer many types of beverage for distributor: fruit juice, coconut water, aloe vera drink, coconut milk, energy drink, etc. You can see detail at OUR CATALOG
Nawon has a total of more than 500 employees including production staff and office staff. All production staff are thoroughly trained in food hygiene and safety plus knowledge of production hazards. So will meet the highest quality standards of customers. Sales staff have solid customer service so that they can provide customers with the best consulting service. Ensure the highest satisfaction from customers.
Product information
Brand: NAWON
Made in Vietnam
Volume: 330ml
Packaging: 330ml / can – 06 cans / lot – 4 lots / carton.
Instructions for use: Delicious when drinking cold and shake well before drinking.
Instructions for storage: Store in a cool dry place, away from direct sunlight.
Shelf life: 24 months (from date of manufacture).