2022 is the Year of Tiger. The tiger, as an old Chinese animal symbol, represents dignity, ferocity, sternness, and courage, and is Yang energy. The Tiger is revered as the God of Wealth in several parts of China and Asia. Tsai Shen Yeh, the Chinese God of Wealth, is so represented as riding a tiger. Therefore, 2022 is the year of health and wealth.
Being inspired by the Tiger, Nawon-the leading Beverage Manufacturer in Vietnam has launched the new energy drink design for the Lunar New Year 2022 – the Year of Tiger. The Tiger Energy Drink Collection is a special version of Lunar New Year 2022.
As the energy drink market is booming, NAWON continues to evolve with new flavors, innovative recipe creations, the usage of new ingredients, and more new designs. Because of links to negative health risks, the energy drink category has been questioned. As a result of this cognitive dissonance, NAWON has worked to create energy beverages that deliver a cognitive boost while also being healthy.
With the reputation of producing and delivering healthy beverages and with the motto: Your Health is Our Mission, NAWON has developed TIGER healthy energy drinks. NAWON wants to make a product that was both functional and good for you, and that could reach as many people as possible.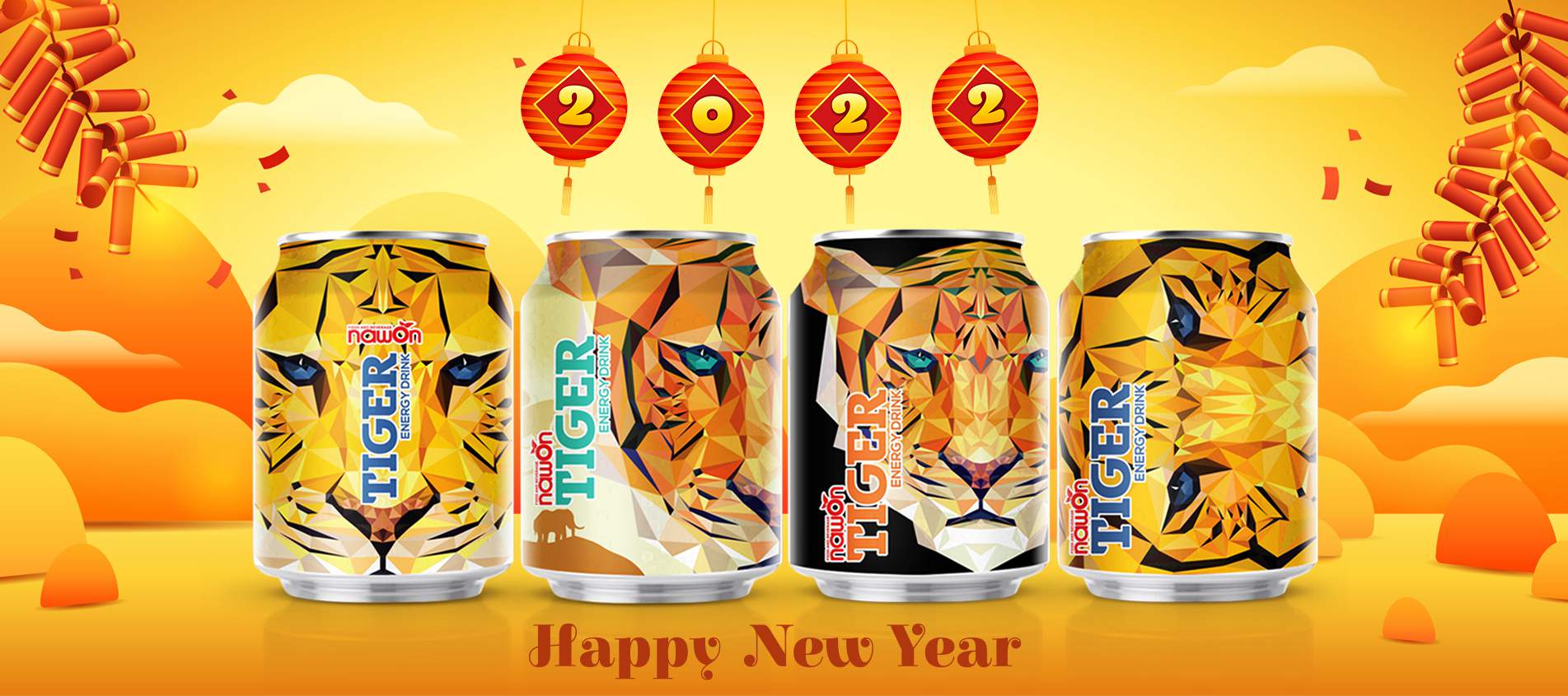 NAWON focused especially on the taste of the beverages and, of course, the ingredients when creating NAWON ENERGY DRINK  and as we continue to evolve the flavor profile and products (everything is naturally derived from fruits and vegetables). NAWON energy drinks are made with natural sweeteners and contain no artificial chemicals or preservatives.
When it comes to LUNAR NEW YEAR, health is considered on the top wishlist. Health for New Year is also our inspiration when developing these healthy energy drinks for the Year of Tiger 2022. The collection of TIGER ENERGY DRINK is also a wish from NAWON to our valued customers who trust us!
Happy Lunar New Year! Wishing you a prosperous year like a Tiger and be successful in the Year of Tiger 2022. Lucky Tigers welcome a brand New Year.
Our products have been available right now and on our ALIBABA store!
Contact us now for more details.