Nawon, a leading name in the health and wellness industry, is delighted to announce its participation at ANUGA 2023, one of the world's largest and most prestigious food and beverage trade fairs. The event will take place from the 7th to the 11th of October, 2023, at Koelnmesse in Cologne, Germany. Visitors and attendees can find Nawon's booth, brimming with exciting and innovative products, at Hall 8.1, C-124.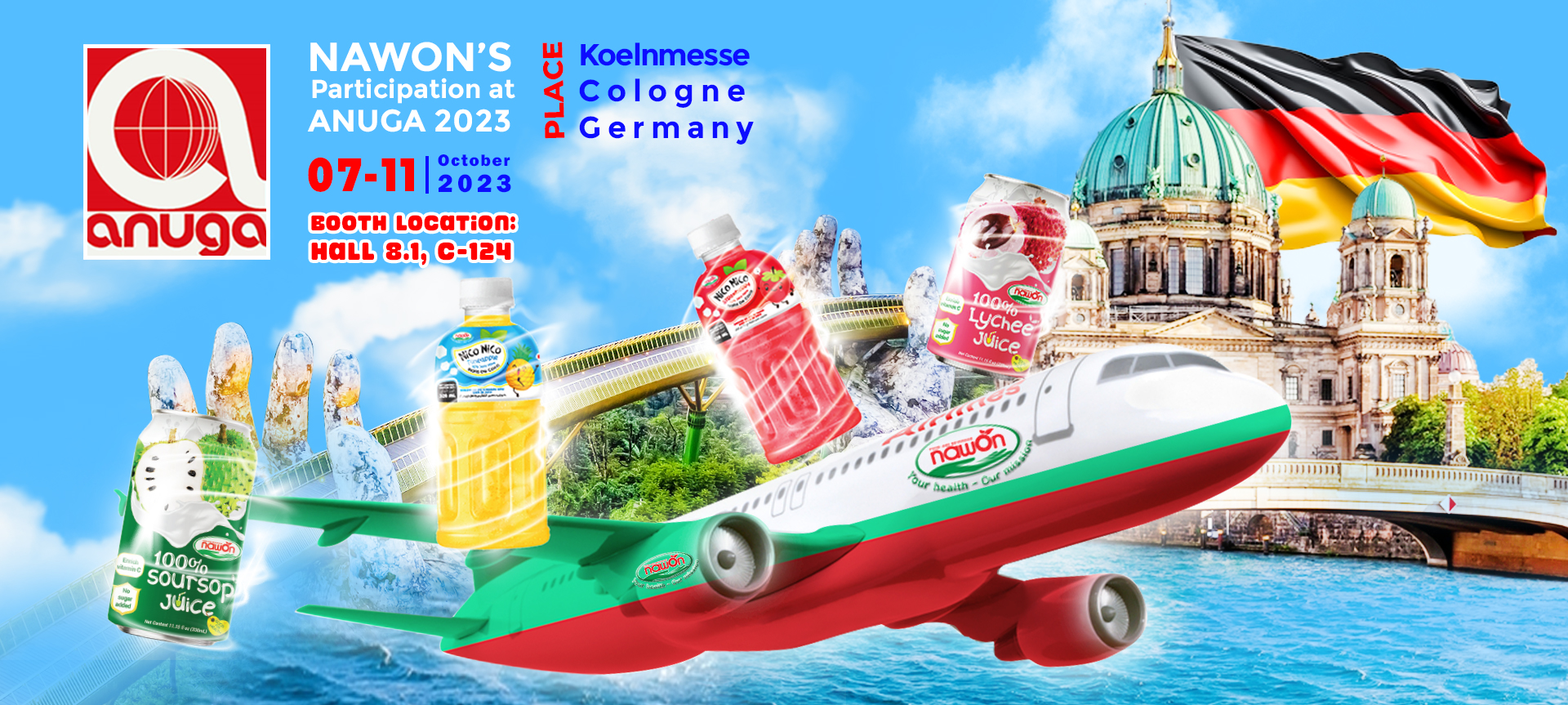 Products Showcased:
Dedicated to promoting a healthy lifestyle, Nawon is thrilled to unveil a range of new and invigorating products during the exhibition. Among the highlights are the protein shake, smoothie, aloe vera drink, coconut milk, and the Nata de coco Juice brand NICO NICO. These products are carefully crafted to provide maximum nutritional benefits, using high-quality ingredients to cater to the discerning tastes of health-conscious consumers.
Special Events and Promotions:
Nawon understands the importance of customer appreciation and, therefore, plans to make this exhibition a memorable experience for all attendees. As visitors explore the Nawon booth, they will be pleasantly surprised with a variety of thoughtful gifts and exciting giveaways. Customer satisfaction is of utmost importance to Nawon, and they consider each visitor's presence as a great honor.
ANUGA 2023 presents a unique and invaluable opportunity for Nawon to interact directly with its customers. The face-to-face interaction with clients allows the Nawon team to gain invaluable feedback, insights, and preferences. By engaging in deep discussions with customers, Nawon aims to better understand their needs and expectations, further enhancing their products and services.
Exploring New Opportunities:
The exhibition is not only about showcasing products but also about forging new partnerships and exploring potential collaborations. Nawon is excited to meet with distributors, retailers, and business partners during ANUGA 2023. It is an excellent chance for Nawon to expand its global reach and open doors to new markets.
In addition to showcasing their latest offerings, Nawon is also keen on sharing their company's core values. They are committed to sustainability, responsible sourcing, and ethical practices, ensuring that their products are not only good for consumers but also for the planet.
ANUGA is renowned for attracting industry experts, buyers, and enthusiasts from all over the world. Nawon eagerly anticipates the vibrant atmosphere of the event, where they can network, learn from others in the field, and stay updated with the latest trends and advancements in the food and beverage industry.
As the event draws near, Nawon eagerly looks forward to welcoming visitors to their booth in Hall 8.1, C-124. ANUGA 2023 promises to be an exciting and transformative experience for Nawon, as they continue to make strides towards promoting health and well-being while connecting with their valued customers and stakeholders.