NAWON AT ALIBABA E-COMMERCE PLATFORM
NAWON has applied the direct-to-customer approach in ALIBABA e-commerce platform. It is undeniable that the COVID-19 has accelerated the digital behavior. The wholesaler community is benefiting from digital mobility. In the lock down time or social distancing, customers tend to find what they need online, to be more precise, via E-commerce market.
"The pandemic was a booster rocket to the healthy trajectory eCommerce was already experiencing," says Joan Driggs, vice president of Content and Thought Leadership for Chicago-based Information Resources Inc. (IRI).
Why Nawon implemented direct-to-customer approach?
As customers get more familiar with online buying, beverage companies are increasingly communicating directly with them through direct-to-consumer (DTC) operations. Direct-to-consumer helps beverage company to build their own relationships with customers, sending out offers that are perceived as personal and valuable rather than just more noise.
For example, a company that wants to introduce a new product. It might begin by making the launch restricted to people already a part of its DTC community; it's a win for the member, and it's a win for the brand to get direct input. Other advancements, such as new product innovation and marketing techniques, may benefit from the data received directly from customers.
However, it is challenging to set up DTC, because it includes a different form of fulfilment as well as direct marketing, which is new for many brands. Another issue is that one brand cannot meet all wants, therefore consumers must genuinely enjoy the brand and the relationship in order to keep it going. That is the reasons why many beverage companies choose to practice DTC into the growing E-commerce market.
Although DTC provides new potential for both large and small beverage firms, wholesalers are also realizing the benefits of using digital mobility with their partners. The cutting-edge technology gives users access to every distributor's catalog while also allowing orders to be submitted to all reps in one spot. It not only saves time, but it also allows purchasers to place orders on their own terms, from wherever they are to whomever they require.
Digital platforms for business-to-business operations help with customer service for in-person activities as well as extending traditional selling hours. As more beverage manufacturers and wholesalers embrace digital mobility, eCommerce appears to be playing an increasingly important role in beverage operations.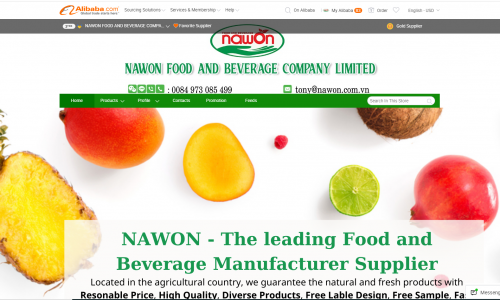 NAWON has applied the direct-to-customer approach in ALIBABA e-commerce platform. Our team try to put the customer front and center in our design and all the value that we're trying to bring. We are making sure that we're talking to the customer in the highest and best way possible about the opportunities and about how we can help them make better decisions about product, price and to keep up with the changing demands.
Our customers have the ability to browse our catalog to connect with their sales people virtually, receive free sample from us and to purchase virtually on their own time and to do it in a much safer way during COVID-19.
We have a very robust roadmap working with our technology partners and working with our own team understanding our customers, our sales, our external customers. Besides, NAWON has made a lot of effort to help our customers whenever they face any problem related to logistic, products, design, etc.
In conclusion, the beverage industry is moving further to online, especially in the historic shock of COVID-19. Want to build your own brand or open your own shop on E-commerce platform? The trustworthy and experienced partner plays a vital role to your success. NAWON, with the diversity of products and the best service, will be with you in your path to the success.
Reference: Beverage Industry