DUBAI GULFOOD 2022 is the LARGEST ANNUAL F&B SOURCING EVENT IN THE WORLD. This year in 2022, NAWON attends this event as the leading beverage manufacturer from Vietnam. We promise to bring the freshest, purest and healthiest beverages to our valued customers all around the world.  With the motto Your Health is Our Mission, NAWON comply with our commitment. 
DUBAI GULFOOD 2022 is a great chance for NAWON to meet our international customers and explore new global trends in the beverage area. This event would be a wonderful opportunity for us to understand our customers deeply and adapt to the new trends, therefore, serve our customers better and better in the near future.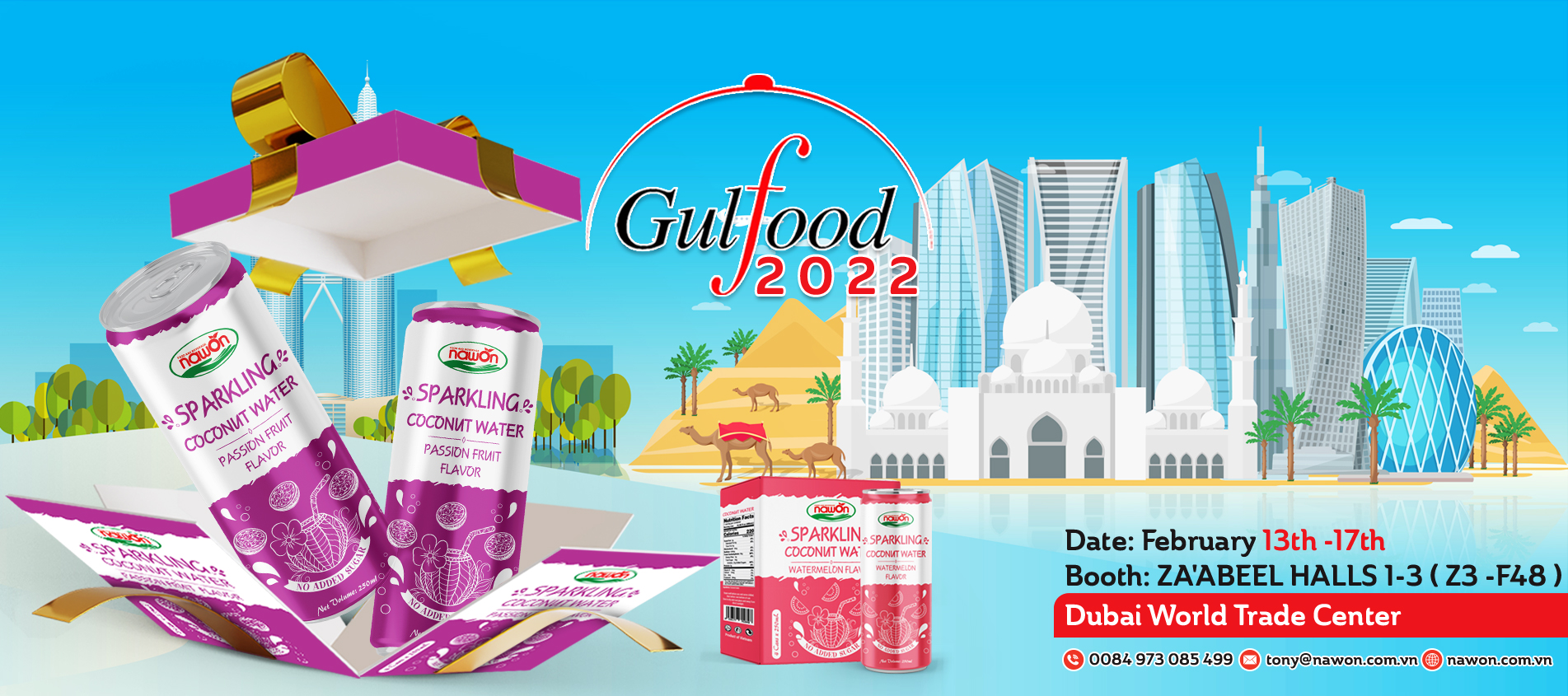 Bringing to this largest exhibition, there are NAWON's experts in the beverage field who have significant experience in this area. Our experts are ready to share with our customers the latest trends, the relevant knowledge, even, some know-how tips to run a business in this industry. With a huge experience running the business in the beverage industry, our experts may provide you the useful advice.
Besides, NAWON also brings to the exhibition the best beverage for our customers to try and take away. Our products are NEVER FROM CONCENTRATE and extracted from the fresh fruit grown on our own farm. Moreover, our customers may have a chance to get many-valued gifts from us via LUCKY ROUND. 
This event is one of the biggest events that Nawon will attend in 2022.  We hereby sincerely invite you to visit our booth at DUBAI GULFOOD 2022, from 13-17 February, at DUBAI WORLD TRADE CENTRE. Your visit is our pleasure. We expect to establish a long-term business relationship with your company in the future!
We are looking forward to your visit:
Booth: ZA'ABEEL HALL 1 (Z1-F47)
Date: 13 – 17, February 2022
Place: Dubai World Trade Centre